For years, Honda has been far from the minds of the younger rider; often missing out to Yamaha and KTM. In 2013 there came a turning point for Honda as the CBR500R arrived and captivated the hearts of many, including those looking for an A2 compliant bike without any fiddley restrictor kits.
Fast-forward to 2022 and the CBR500R has now solidified itself in the pocket-rocket market with over half of those bought under the age of 35!
So, aged 29+4 I was excited to see what all the fuss was about! Honda have thrown a lot into it this year with the new 500 range which also includes the CB500X, CMX500 Rebel and CB500F. If you haven't seen all the press around these machines, where have you been hiding?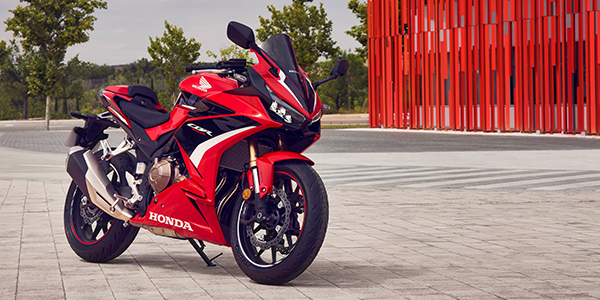 When the Matte Gunpowder Black Metallic CBR500R arrived at the showroom, I was immediately pleased to see that the bike indeed looked more black than grey, despite the grey accented front fairing. When I'm not in the dealership, I am normally trackside with British Superbikes, and the winglet front-end really does give that strong, confident super-sport looks that you see across the circuit. There's no getting away from the fact the CBR500R bears a strong family resemblance to its bigger sibling: the Fireblade.
For those who know me through the dealership know that I have recently started a full-blown love affair with the CMX 1100 Rebel (DCT) and nothing has seemed to lur me back to a sports ride since. So of course, I went into this a little bit apprehensive! Cue the stall of the bike before I left the car park. Turns out the clutch lever does actually do something.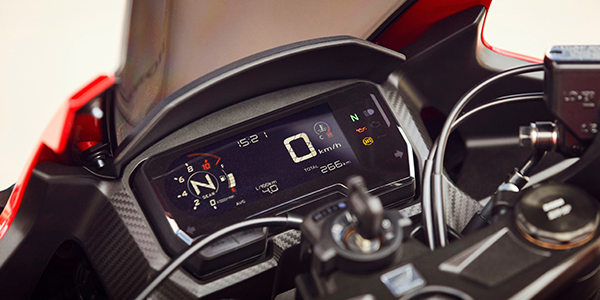 Once I threw my leg over, I immediately felt more planted and confident on the bike than I first thought. At 5'7, I'm not exactly struggling on tip-toes, but with a very respectable 192KG dry weight, before the key was turned, I had already lowered the shoulders and knew this was going to be fun! I was not disappointed.
Under 1 mile in, it was obvious this bike wasn't going to pull my arms off, but nicely tucked-in I didn't crave any more power. The gold Showa Separate Function Big Piston forks replace the standard 41mm forks, and that has to be the most notable difference as I frustratingly bobbed along what was left of a B-road surface behind farm vehicles. Graciously taken in its stride, I then opened the throttle again and found my smiling cheeks pressed inside my lid as the gears lifted up to 3rd and 4th and the sound of the stock exhaust was delightful! That, I was not expecting!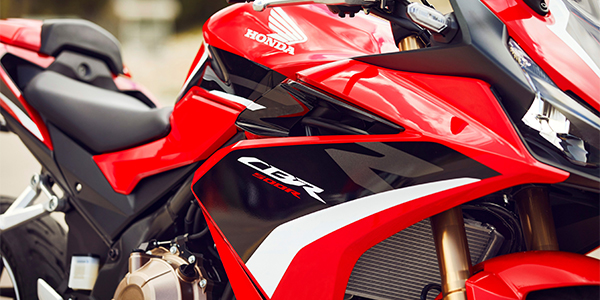 We have recently applied an up-lift to the 2021 CBR500R we have in the dealership with Scorpion Exhausts and matching seat cowl; I had become a bit too familiar with the sound of the Scorpion can, so the stock was a really pleasant surprise! The note disappears as you get over the 65-70mph mark, but low-down, it's sweet.
The front-wheel feels planted and really confidence inspiring, particularly as you anchor-on into a corner, it was like point-and-shoot; the bike went exactly where you put it. For this lightweight beastie, I continued to be very impressed! Could my sports-bike days be creeping back?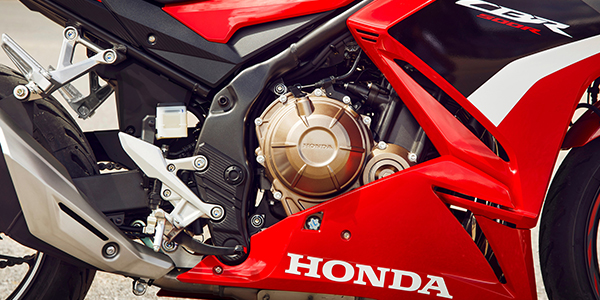 As I rode back to the dealership, I started to cast my mind back to my (much) younger days and the inner 21-year-old who would set off with a fully charged Nokia and a decent signal route planned, as inevitably at some point, I would be calling my Dad to let him know something had gone wrong with my bike! The toolkit in the fraying rucksack totally killing my vibe, but I daren't set off without! There is no worry of that with this machine at all. Whether you're a new rider, A2 rider or returning rider, this bike is sure to tick a lot of boxes. Some may consider the bike slightly basic by the way of toys, but with brighter LED lights, LCD dash and gear indicator as well as the sportier twin radial front callipers – you're getting a great 'entry level' sports bike. You can opt for extras such as taller screen, heated grips and tank bag if you plan on treating this bike more like a sports tourer; and take it from me, it would happily adapt!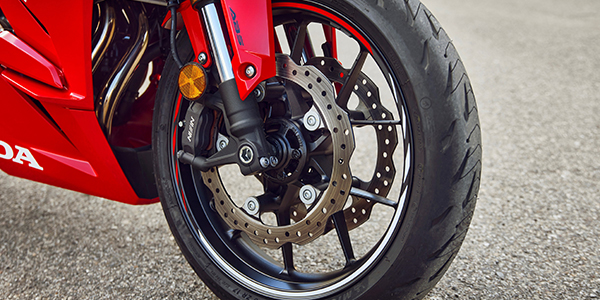 Colours
Grand Prix Red (customer order)
Matt Axis Grey